What is SEO?
Every day millions of people ask Google all kinds of questions:
Where is the closest gas station?
How do I renovate my bathroom?
Who is the best mechanic in my city?
Google wants to answer those questions as accurately as possible. So it reads as much of the internet as it can and then uses many different factors to determine which information will best answer your question.
Search Engine Optimization is a the process of making your website better for your visitors and easier for Google to search, in order to increase the amount of traffic coming from search engines like Google.
Understanding Google Results
In the photo below, we can see three different areas for this search "renovations in london, on".
First (in red), we have the Paid Ads at the top, every time someone clicks on this link, the business has to pay a fee. This can be anywhere from a few cents to many dollars, depending on how many other businesses want to rank for the same phrase.
Second (in blue), there is the Google My Business listings. These are based on the location of the searcher and the location of the business. For example, in this instance because I searched for "in london, on", it shows businesses related to "renovations" that are located in London, ON.
Third (in green), there is the organic results. So from the over 26 million pages that Google found to be related to "renovations in london, on", it has determined that these are the most relevant.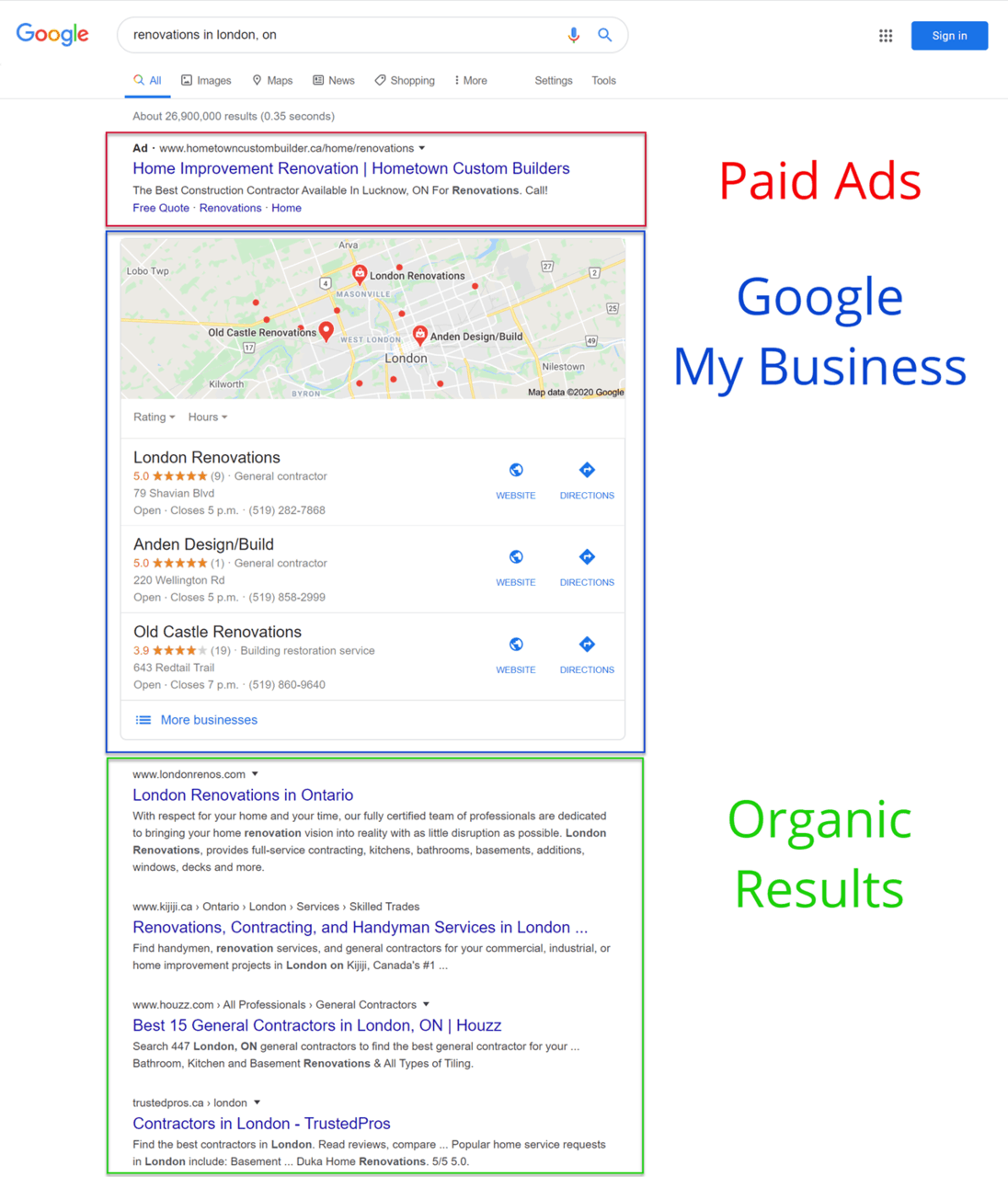 Differences
Each of these has different pros and cons. You need to determine which ones you want to focus on.
Paid Ads will give you almost instant traffic to your website, but it will cost you and the leads might not always be good if you don't carefully tune your ads.
Google My Business is free to setup, but it will only help if people are searching in your local area.
Organic results are ranked based on an algorithm set by Google. It doesn't cost to rank, but you will need to invest in your website and its content. It takes time, but is often more cost effective over the long term.
First Steps
Here is some first steps to take to boost your online presence.
Website Content
Spruce up the information on your website. Google likes to see unique information, not available elsewhere. And then add good titles, use heading tags, add appropriate images, and do some keyword research.
Setup Google My Business
Next, add your business profile to Google My Business, https://www.google.com/intl/en_us/business/, and fill out all your information. This will allow your business to show up in the map listings.
Reviews
One of the ways that Google ranks businesses is by the reviews left by customers. Encouraging your customers to leave reviews can be a huge help. Even if people sometimes leave negative reviews, you can respond to them and politely ask to make it right or explain your side of the story.
Pagespeed
Everybody wants speed. Make sure that your website loads quickly, if it takes to long to load people go elsewhere. Pingdom has a neat tool to test your pagespeed, https://tools.pingdom.com/.
Mobile Friendly
More people are using mobile devices to browse, so make sure your website loads well for mobile users. Google as a tool that has helpful suggestions: https://search.google.com/test/mobile-friendly.
Links
Another factor Google uses to rank websites is by how much authority your website has. One way it measures authority is by the number and quality of links pointing to your website from other websites. Some ways that you can get more links: get listed in your suppliers directories, Chamber of Commerce, sponsoring local events, and being featured in a local news story.
Need Help?
If you need help with optimizing your website, please contact us.